You are currently browsing: WiMax
Spotted these XOHM WiMax little carts in Fells Point-an area in downtown Baltimore. These carts are in front of the Admiral Fells Inn, which is pretty much the same area where the National WiMax Launch event is happening this Wednesday at 10am EDT. The carts seat 1 person and are mobile so they can goto wherever there is any action of people congregating. For example the carts went to the Olympian swimmer M. Phelps parade and also was spotted at the Ravens parking lot for the Sunday game. I saw someting like these at the CTIA Wireless convention – betcha that;s wehre they got the idea! Mobile demonstration carts = good idea, unless it rains! Although XOHM execs tell me they have a tent ready in case it doeas rain – let's hope the skys stay clear.
On the carts were WiMax enabled laptops, laptops with express card and USB modems and Nokia N810 phones. Funny the home page of all the devices was pretty much set to speakeasy.net – a website for conducting speed tests. I'll show you pics and video of my results later. It was fun seeing people chomping on funnel cake trying to figure out who XOHM is.
BY THE WAY FOR THOSE COMING TO BALTIMORE FOR THE WEDNESDAY ANNOUCEMENT – I'm having a WiMax MeetUp – interested? then buzz buzz me til I get details posted.
Call my Google Grand Central #
---
Today, I appeared on WYPR 88.1fm public radio. The show hosted by Sheilah Kast is one of the best talk show hosts on public radio! I sat down with Nathan Sturner who interviewed me about WiMax in Baltimore. At this point I have had the service for about a day and have had a chance to begin some testing of the new wireless service – so far it's been awesome when you get a great signal it's blazingly faster than alternatives. In some ares of the city it was a bit spotty which is expected for any new network. Currently they have about 180 base stations in the baltimore and have about 70% of Baltimore covered, so there's plentyof growth still to come here. In case you didn't know Baltimore, is the 1st U.S. city to have WiMax and that has put Baltimore on the "global techie-map". I recall being in Seoul Korea about 3 years ago wehere I tested a service called WiBro on the WiBro bus and I vividly recall how explosive this technology would be and the promise it would bring for new devices and applications back then. It's great to see pieces of that type of technology finally shoing up in the U.S.
The show podcast will be here shorly, come back soon to listen!
---
Yes! The title is absolutely correct WiMax is getting it's official U.S. debut in Baltimore, Maryland. I'm incredibly excited about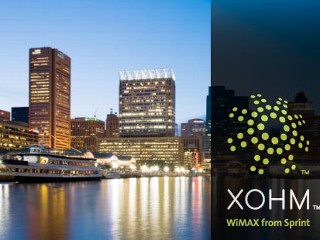 Baltimore getting WiMax because I live here :-) and I will be one of the 1st to test the new service. I'm also happy about Baltimore gertting some solid National tech attention, alot of tech attention is always given to the West Coast or Masachusetts as if they are the only places thriving in tech. Headsup to the Valley – there's a whole other tech economy happening outside of your backyard – stick your head and look around you might just find some great tech innovation or partenrs in Baltimore, MD. Baltimore is full of incredible tech companies and innovative entrepreneurs. The tech talent in Baltimore is really incredible but often overlooked by the media. In case you didn't know Maryland has recently been ranked #2 as as top State in Technology and Science, according to Milken Institute. YES, Maryland #2 ahead of #4 ranked California. view study

The states in the best position to succeed in the technology-led information age are (with 2004 rankings):
1) Massachusetts (1)
2) Maryland (4)
3) Colorado (3)
4) California (2)
5) Washington (6)
Stay tuned to the blog or follow me on Twitter for my WiMax journey. I'll be buying an express card today and will shoot some video to document the WiMax experience.
---